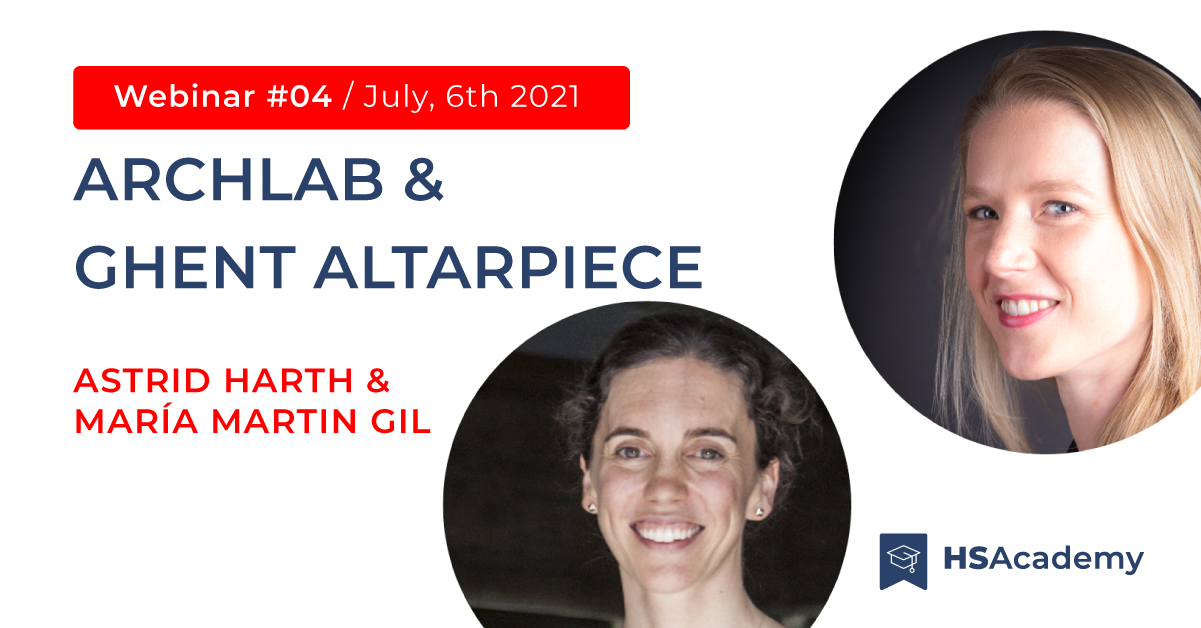 Webinar #04: ARCHLAB

The webinar takes place online and will introduce participants to the ARCHLAB platform.
ARCHLAB (Scientific Archives) is the IPERION HS platform that provides access to organized scientific information in largely unpublished datasets from archives of prestigious European museums, galleries and research institutions. ARCHLAB enables access to the combined knowledge in 14 repositories in Belgium, France, Germany, Italy, Netherlands, Romania, Spain, Sweden and the UK. The data, in a physical or digital form, have been collected through years of activities devoted to research and conservation of European cultural and natural heritage. Besides access to scientific, analytical and technical data on cultural objects, crafts, monumental and archaeological sites of international importance and related samples, access is provided to collections such as reference samples, art materials and several types of archaeological collections.
Astrid Harth, Ghent University (BE) will talk about a success story on the Ghent Altarpiece. 
María Martin Gil, IPCE (ES) will present "ARCHLAB: The Key to Heritage Science Archives".
Supported by the EU IPERION HS project, ARCHLAB offers transnational access to heritage science information (technical documentation and sample archives) collected through many decades of research in 14 prestigious European Museums, Conservation Centers, and other institutions. ARCHLAB enables not only access to data and samples but also to experts with specialist knowledge about the archives, which significantly enhances the benefits to visiting researchers. The different access providers and some practical information about how ARCHLAB access takes place will be presented together with some examples. 
Date
July 6th, 2021 at 3 pm CEST
You will learn

What ARCHLAB is
How to access ARCHLAB
How ARCHLAB can improve your research
Key topics we'll cover
Heritage Science and Scientific Archives
Duration
1 hour (40 minutes + 20 minutes Q&A)
Speakers
Astrid Harth
Astrid Harth studied Art History at Ghent University (2011) and Conservation – Restoration at the University of Antwerp (2015). During her studies, she developed a special interest for technical art history and the methodological challenges posed by the implementation of technical analysis to answer art historical and theoretical questions. She has taken part in several technical research projects that focused on the usage of state-of-the-art imaging and analytical techniques for the investigation of easel paintings. These projects resulted in two articles published in the international peer-reviewed journals X-Ray Spectrometry (2015) and Heritage Science (2017). Since October 2015, she is enrolled as a PhD student (Fellow of the Research Foundation – Flanders) at the Department of Art, Theatre and Music Sciences of Ghent University. Her PhD research focuses on the copying practices of sixteenth-century Netherlandish masters, such as Joos van Cleve and Michiel Coxcie. More specifically, she aims to elucidate the intellectual contributions engrained within said copying practices through both art historical and technical research.
Marí Martin Gil

PhD in Science (Doctor Europeus). Head of Department for Research and Training at the Spanish Cultural Heritage Institute, Ministry of Culture and Sport, since 2014. She has been responsible for the establishment of the strategy and priorities for cultural heritage conservation research. She is also responsible for the training program at the Institute, focusing on interdisciplinary, specialization and quality.
Future webinars
Read the IPHS full programme
Registration form for Webinar #4