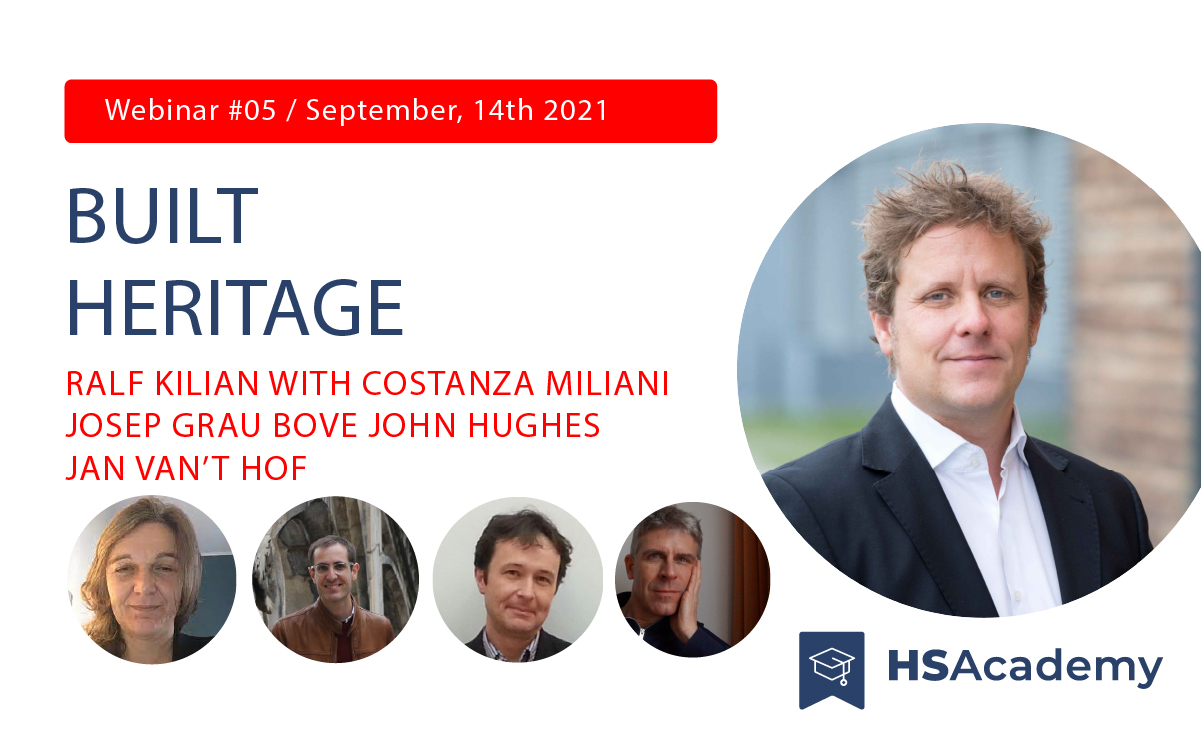 Webinar #05: Built Heritage

An overview of what IPERION HS can offer to the Built Heritage Community
The webinar takes place online and will introduce participants to the field of Heritage Science facilities in IPERION HS, a European project devoted to building a distributed research infrastructure in the field of Heritage Science: E-RIHS (http://www.e-rihs.eu/).
The focus will be placed on what IPERION HS can offer to the Built Heritage community and how IPERION HS can answer to the built heritage needs.
Date
14th September 2021 at 3 pm (CEST) – add to calendar
You will learn

What IPERION HS can offer to the Built Heritage community
Which are the latest technologies for built heritage
Key topics we'll cover
Heritage Science
Built Heritage
Duration
45 minutes (30 minutes + 15 minutes Q&A)
Speakers
Ralf Kilian – Fraunhofer institute, DE
Univ.-Prof. Dr.-Ing. Dipl.-Restaurator. Univ. Ralf Kilian is associate professor for Preventive Conservation of Built Cultural Heritage at Otto-Friedrich-University Bamberg and responsible for the field of Cultural Heritage Research at the Fraunhofer Institute for Building Physics IBP, Holzkirchen. His work deals with many different aspects of monument preservation as well as with energy efficiency, sustainability in retrofitting museums and the indoor climate in historic buildings and its impacts on the long-term preservation of works of art. He is also director of the "Pompeii Sustainable Preservation Project" which aims to transfer concepts of preventive conservation and methods from building physics research into archaeology.
Costanza Miliani – National Research Council, IT
Director of CNR Institute of Heritage Science. She received her MSc (1995) and PhD (1999) in Chemical Sciences from the Università Degli Studi di Perugia, and her Executive Master of Business Administration (2019) in Management of Research Infrastructures from the Università Degli Studi Milano-Bicocca. Costanza is the author of over 140 articles concerning the physical chemistry of materials of relevance to cultural heritage (H‐index=43 and 5190 citations, from Google Scholar). Principal Investigator of regional, national and European projects in Heritage Science, Costanza is currently coordinator-elected of the European mobile platform MOLAB which is providing access to non-invasive mobile diagnostic laboratories for research scientists in Heritage Science.
John Hughes – University of the West of Scotland
Reader in Historic Built Environment. A geologist by training, with research interests in materials used in historic structures, especially the characterisation of historic mortars, the development of new mortars for conservation and the characterisation of stone decay. More recently he has researched climate change impacts on cultural heritage.
Joseph Grau Bove – University College London, UK
Lecturer in Science and Engineering in Arts Heritage and Archaeology at the Bartlett School in London. He is a heritage scientist studying new technologies for preventing conservation, transport phenomena in heritage materials and microenvironments, data-driven approaches to the analysis of large collections. He directs the MSc in Data Science for Cultural Heritage.
Jan Van't Hof – Cultural Heritage Agency, NL
He was trained as an art historian at Leiden University. At present, he is head of the Department of Monuments and Collections at the Dutch national heritage board, the Cultural Heritage Agency of the Netherlands. He has published on topics as natural stone, monastic architecture and contested heritage.
Future webinars
Read the IPHS full programme
Registration form for Webinar #5