PIXE is a technique used to quantify the composition of a material. It is performed by irradiating the samples with a ion beam (typically low energy protons from a particle accelerator) inducing the emission of the X-ray fluorescence radiation that is characteristic of the chemical elements composing the object under study. The MOLAB offers the possibility to apply the PIXE technique in situ with a portable spectrometer that is based on the use of an alpha particle radioactive source. The PIXE-alpha portable system is particularly suited for the compositional analysis of surfaces; the analytical range of alpha particles used as primary radiation in the spectrometer is limited to 5-10 microns of material. Therefore the system perform the analysis of the most superficial layer without the interference of the elements composing the substrate. The technique is quantitative and provides accurate compostional results. The PIXE-alpha technique is a powerful and non-destructive methods nowadays used routinely by geologists, archaeologists, art conservators and others to help answer questions concerning the nature of original materials, provenance, manufacturing technology, and authenticity. Since the PIXE-alpha spectrometer is based on the use of a radioactive source whose use on the site is regulated by the national rules, an alternative options is the use of the low energy XRF spectrometer available at the MOLAB. Its analytical capabilities are very similar to the ones offered by the PIXE-alpha spectrometer and its use on the site is equivalent to the one of a conventaional XRF spectrometer without limiting restrictions.
Cultural heritage

archaeological object and site, architecture, art, decorative arts, demo anthropologic object, furniture, manuscript, metalpoint drawing, mosaics, musical instrument, painting, papyrus, sculpture, textile

Natural heritage

mineral, shell, skeleton
inorganic

glass, stone, metal and metallurgical By-Products, archeological alloys, ceramic (clay, mud brick, terracotta, earthenware, stoneware, porcelain), corrosion patina, frescoes, ink, jewels, mural painting, pigment, plated objects, precious metal, precious stone, surface patina, wall painting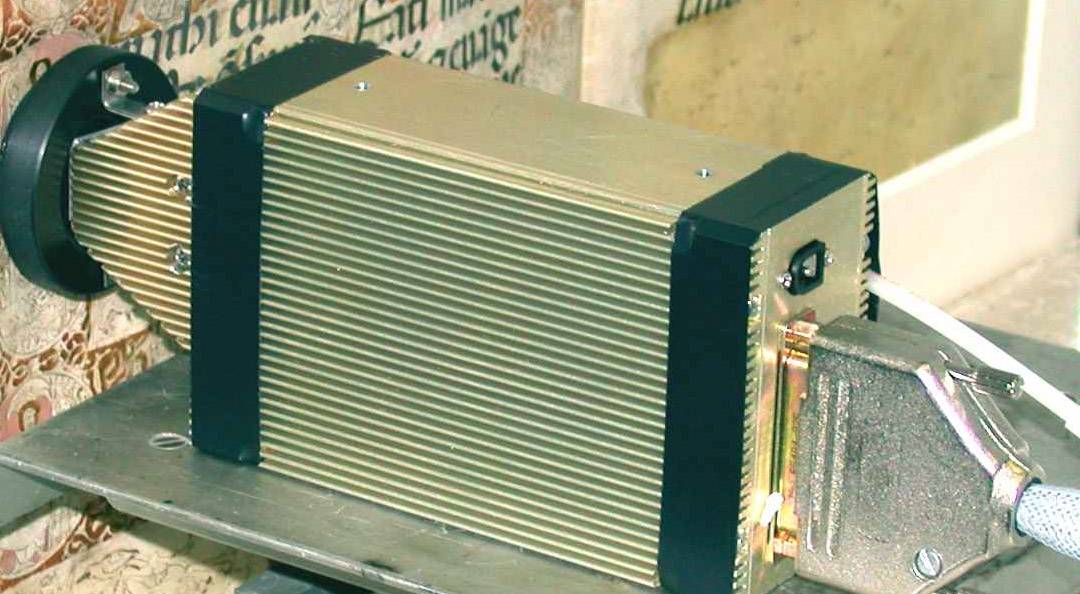 The portable PIXE-alpha system consists of a polonium source emitting alpha particles of 5 MeV energy. It is based on an annular geometry and it is coupled to a 25 mm2 SDD detector with a high energy resolution of 125 eV at 5.9 keV. The beam spot on the sample is 18 mm diamater. A...