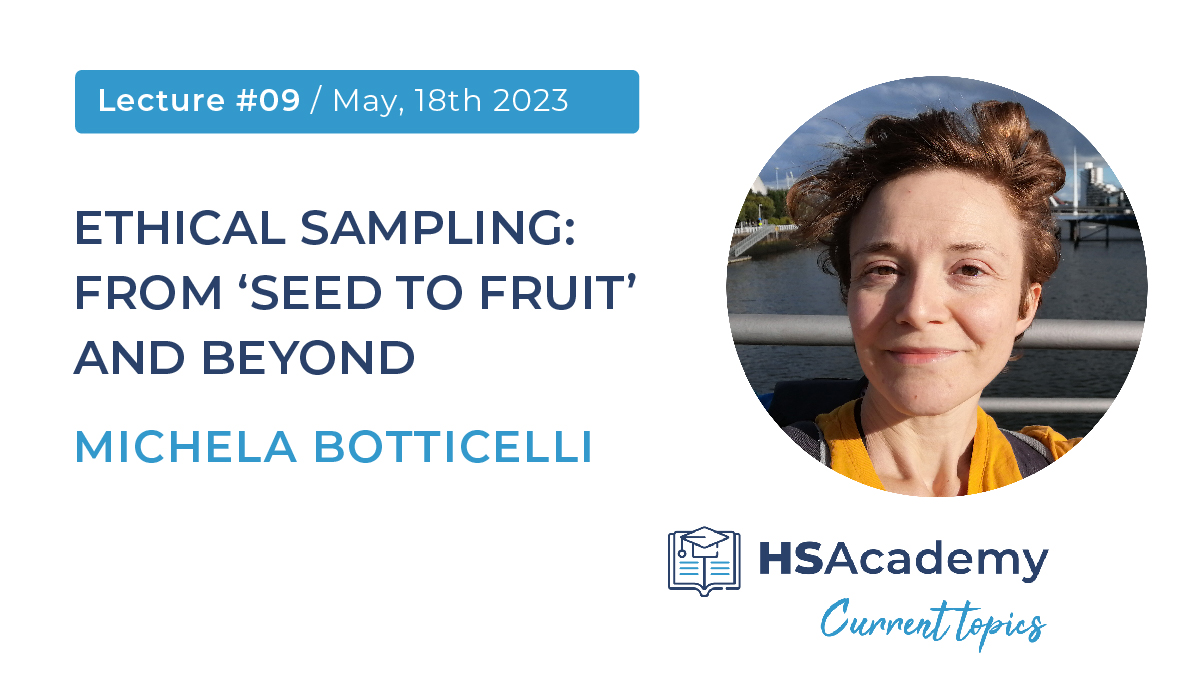 CTinHS Lecture #09: Ethical sampling: from 'seed to fruit' and beyond
The CTinHS lectures are part of HS Academy: a collaborative initiative between IPERION HS (www.iperionhs.eu) and E-RIHS (www.e-rihs.eu). The two European projects integrate facilities of recognized excellence in Heritage Science, offering access to a wide range of high-level scientific instruments, methodologies, data, tools and training opportunities for advancing knowledge and innovation in the field.
Lecture #09 of the "Current Topics in Heritage Science" series will be delivered by Michela Botticelli (Kelvin Centre for Conservation and Cultural Heritage Research, University of Glasgow) on Thursday, May 18th, at 3 pm (Rome time).
Abstract
Non-destructive techniques are nowadays prioritized to address research questions and conservation issues in Heritage Science. However, sampling is still an essential step to confirm results of this preliminary non-invasive investigation. As it deals with unique heritage objects or sites, sampling requires balanced, objective and consistent discussion in a collaborative and transparent environment.
In 2019, the Icon Heritage Science Group released the Ethical Sampling guidance after a concerted effort that lasted for at least 2 years. This step filled an important information gap and offered a practical, flexible and adaptive tool to scientists, conservators, curators, stakeholder and other decision-makers. Starting from the steps that led to the Guidance and moving to its key-concepts, this lecture aims at offering an up-to-date overlook on the main steps for ethical sampling in Cultural Heritage.  The key points of the guidance will be highlighted, with practical examples on how to apply it.  Finally, the results of a worldwide 2023 survey will provide insights on the diffusion and current application of the Guidance, but also on common practices among professionals when they need to carry out sampling on artworks.
Date
May 18th, 2023 at 3 pm (Rome time zone)
You will learn
The story beyond ethical sampling
Key concepts and good practice
Applications and examples
Key topics we'll cover
The methodology for sampling according to the BSi European Standard
The Ethical sampling Guidance
The main steps for an ethical sampling
A case study
The results of the 2023 survey
Duration
45 minutes (30 minutes + 15 minutes Q&A)
Speaker
Dr. Michela Botticelli obtained her PhD in Earth Sciences from 'Sapienza' University in Rome, where she worked on the development of origin/provenance discrimination criteria for red pigments. She took a research fellowship at the same University, on the study of pottery from the archaeological site of Khalet al-Jam'ha, near Bethlehem. Before and after that experience, she worked as a freelance conservation scientist at Istituto Centrale per il Restauro, in Rome, for two years. There she studied mural paintings, ceramic, stones and glass artworks by using several analytical techniques, with a micro-destructive approach. Her research interests deal with archaeometric investigations on pigments to assess provenance criteria, to detect forgeries or contribute to a better knowledge of their production processes and trade routes. She is also interested in instrumental set-up and applications to study different kind of materials in a non-destructive or micro-destructive way, being this aspect so important when dealing with Cultural Heritage. In 2021 she joined the University of Glasgow as a research assistant on the PISTACHIO (Photonic Imaging Strategies For Technical Art History And Conservation) research project. This project, carried out in collaboration with Heriot-Watt University and The Hunterian, focuses on extracting information about composition, structure and process of creation of artworks using hyperspectral imaging and benchtop micro-FTIR.
Registration form for HS Academy Lecture #09