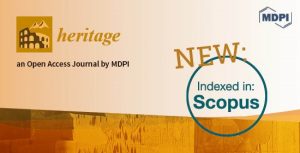 Open Access and Free of Charge
Heritage is a peer-reviewed open-access journal of cultural and natural heritage science. Since its inception in 2018, /Heritage/ has experienced continuous growth over the last years with over 300 papers published in total. In 2021, the journal has been indexed in both ESCI and Scopus. Heritage is committed to rapid publication. A first decision is provided to authors approximately 12.3 days after submission and once accepted an article is published in less than three days.
Heritage has recently been accepted by both ESCI and Scopus in March 2021. To give back to the community, the editors have decided to waive the fee for all papers submitted from 1st June to 31st August 2021 a good chance to contribute a paper to the Special Issue"Study and Characterization of Paintings: Materials, Artistic Techniques, and Conservation" during this window. For details, please check: https://www.mdpi.com/journal/heritage/special_issues/Paintings_Materials or visit MDPI 
Deadline for manuscript submissions: 31 December 2021.