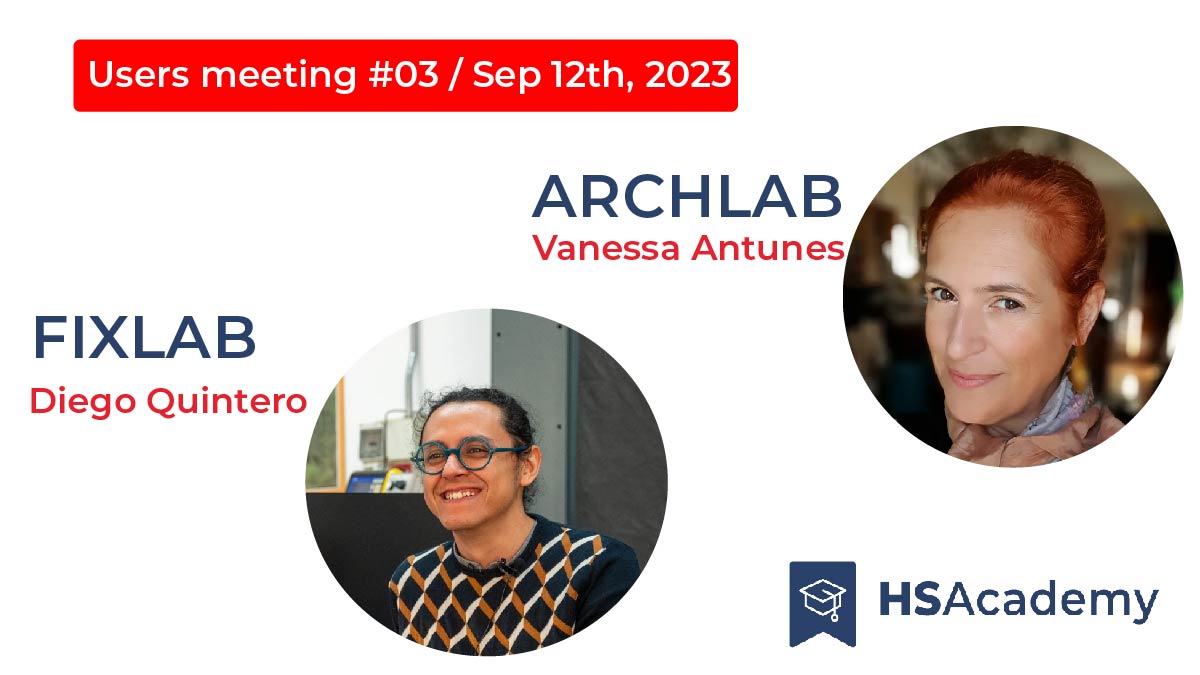 IPERION HS TNA Users Meeting #03
The Users Meeting webinars are organized by the HS Academy, a collaborative initiative between IPERION HS and E-RIHS. The two European projects integrate facilities of recognized excellence in Heritage Science, offering access to a wide range of high-level scientific instruments, methodologies, data, tools and training opportunities for advancing knowledge and innovation in the field.
The 3rd Users meeting will be held online on September 12th, 2023 at 3 pm (Rome time zone) using the ZOOM webinar platform. The User Group Leaders Vanessa Antunes and Diego Quintero will share their experience related to the TransNational Access (TNA) projects of access to IPERION HS facilities and archives, ARCHLAB and FIXLAB, respectively.
Vanessa Henriques Antunes the ARCHLAB project "ZAINTIBERIA: Unraveling Zurbarán's Influence on Iberian Art Techniques" and Diego Iván Quintero Balbás the FIXLAB project "Linear and Non-linear Laser Technologies to Study Gelatin-Based Historical Objects: the LANGE".
Date
September 12th, at 3 pm (Rome time zone)
Duration
1 hour broken down as follows:
– 
30 minutes presentations of Users projects (15 minutes for each User);
– 
30 minutes for the Q&A interactive session of the participants with the Users.
Speakers
Vanessa Henriques Antunes is affiliated with the Institute of Art History at the University of Lisbon (ARTIS-FLUL).
She will provide insights into the ARCHLAB TNA – the "ZAINTIBERIA" project –  that involves a comparative analysis of the materials and technical methods employed by Francisco de Zurbarán in his paintings at the Royal Monastery of Santa María de Guadalupe. She juxtaposes these findings with observations from the painting workshop of Baltazar Gomes Figueira and Josefa d'Óbidos in the Portuguese territory, aiming to demonstrate Zurbarán's influence on the techniques utilized by the Óbidos workshop. This research initiative is part of the broader ARCHLAB program, which facilitates transnational access to collections and data from 14 European institutions specializing in heritage science. You can find more about this project on the IPCE (Instituto del Patrimonio Cultural de España) website and YouTube channel.
Diego Iván Quintero Balbás is a researcher at the National Institute of Optics (CNR-INO) from Florence. In 2013, he graduated from the Cultural Heritage Conservation program of the Escuela de Conservación de Occidente (ECRO) in Mexico. Later, he received his master's degree in Science for the Conservation-Restoration of Cultural Heritage in 2017 and his Ph.D. in Chemistry in 2021 from the University of Bologna (Italy). Since then, his research has focused on applying optical techniques, particularly spectroscopy, to investigate different typologies of artistic and historical objects, such as textiles, paintings, and photographs.
His presentation on the FIXLAB TNA – the "LANGE" project – focuses on linear and non-linear laser technologies for studying artifacts made of gelatin and glass: photographic negatives and modern paintings. The project goal was to set up a non-invasive methodology to study the stratigraphic structure of the gelatin layers laid over the glass to understand their degradation and aid their conservation.
Registration form – Users Meeting #03