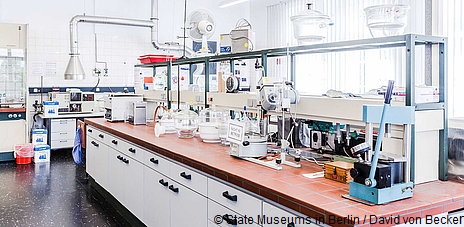 A job opportunity in Berlin, in the field of cultural heritage research 
The Stiftung Preußischer Kulturbesitz – a federal authority – has a vacancy to fill at the earliest possible date at the Rathgen-Forschungslabor in Berlin.
The Rathgen-Forschungslabor (Rathgen Research Laboratory) is the scientific institution of the Staatlichen Museen zu Berlin, Stiftung Preußischer Kulturbesitz (National Museums in Berlin, Prussian Cultural Heritage Foundation). It is considered to be the oldest cultural heritage laboratory in the world and is named after the chemist Friedrich Rathgen, the first director of the chemical laboratory of the Royal Museums in Berlin.
As a scientific institution of the Staatlichen Museen zu Berlin, the Rathgen-Forschungslabor provides not only support and advice on issues related to conservation, art technology and archaeometry to the Berlin collections but also offers its services to institutions and organizations across the globe. The laboratory investigates museum objects of various materials and conducts research on the preservation of historical monuments and archaeological sites.
In the frame of a project funded by the Deutschen Bundesstiftung Umwelt, the properties of passive showcases will be measured and characterized with the aim of better understanding and managing the measures to control relative humidity and air pollutants inside the showcase.
Deadline for application: May 16, 2022

For further information on assignment, requirements, and how to apply please, visit https://www.preussischer-kulturbesitz.de/karriere/datenschutz.html