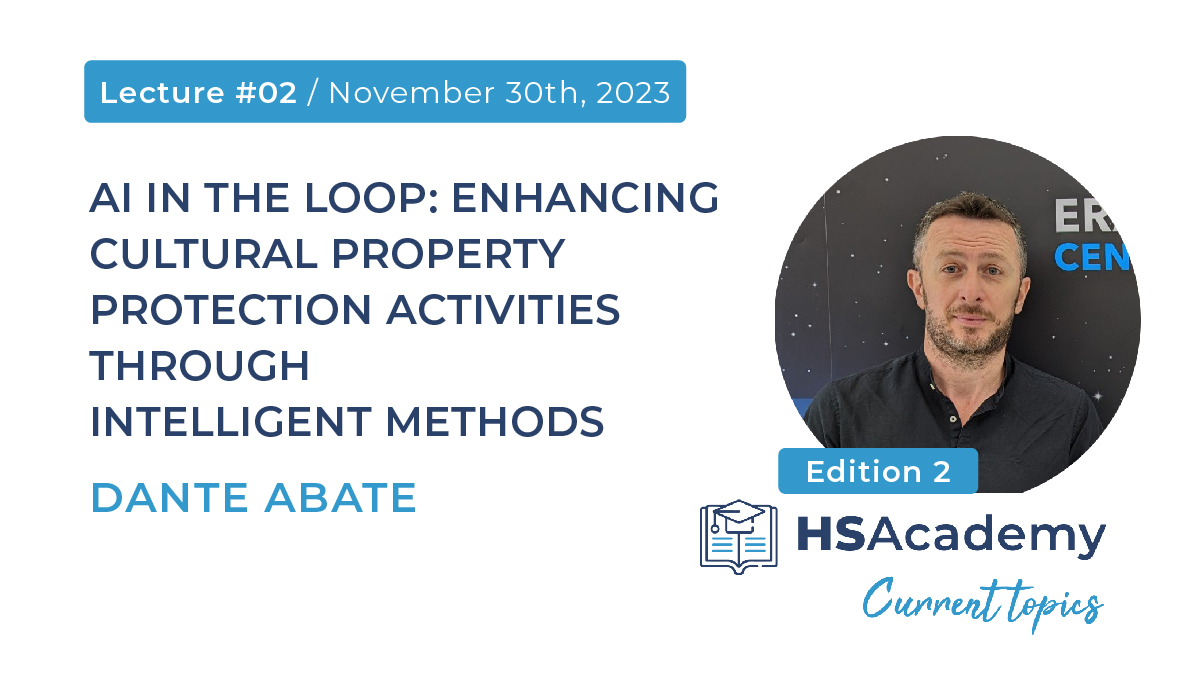 CTinHS Lecture 2 – 2023/24: 
Dante Abate will deliver the 2nd lecture in the 2nd edition of the "Current Topics in Heritage Science": AI in the Loop: Enhancing Cultural Property Protection Activities through Intelligent Methods on Thursday, November 30th, from 3.00 till 4.00 pm (CET). 
AI in the Loop: Enhancing Cultural Property Protection Activities through Intelligent Methods
"With the trafficking of works of art we support our family" was a message found in the den of the last Italian Mafia Boss Matteo Messina Denaro, arrested after 30 years in-the-run in January 2023. Harmful actions, like illegal archaeological excavations and illicit trafficking of cultural property, are still serious threats to our shared heritage and the UN's SDG goals for a sustainable future. New AI-driven tools are helping fight these threats. In this talk, we'll explore how "AI in the Loop" approaches boost efforts to safeguard cultural properties. We will highlight the use and smart processing of data collected from satellites, drones, and other airborne sources to surveil sites where pillage or plundering is ongoing.
Furthermore, the web has become a hotspot for the illicit trafficking of cultural artifacts. AI-powered methods are now being employed to monitor online platforms, enabling the identification, tracking, and reporting of illegal sales and transactions. Through intelligent methods, we can harness the power of technology to offer a proactive approach, ensuring the safety and preservation of invaluable cultural assets for future generations.
Date
November 30th, 2022 at 3 pm (CET)
You will learn
Use of AI for space-born data
Quasi real-time identification of illegal archaeological excavations
AI for the identification of illegal traffic of Cultural Property online
Key topics we'll cover
Cultural Property Protection Framework
Artificial Intelligence
Remote Sensing
Video analysis
Image classification
Duration
45 minutes (30 minutes presentation + 15 minutes Q&A)
Speaker
Dr Dante Abate is a Researcher at the Eratosthenes Centre of Excellence located in Cyprus. With a background in archaeology, he specialized in the application of digital and non-destructive technologies for safeguarding and preserving cultural heritage in sensitive zones and forensic scenarios. Dr Abate is a former Marie Sklodowska Curie fellow in the Digital Forensic Archaeology project in the UK and is a current expert member of the sub-group for the safeguarding of cultural heritage in Ukraine. He is an expert member of the CIPA cultural heritage documentation and ISPRS Working Group IV/11 – Cultural Heritage Visualization and Virtual Restoration. Through coordinating funded projects and initiatives, he has collaborated closely with law enforcement agencies and authorities to combat the looting and illegal trafficking of cultural property.
Recommended readings
Abate, D., Agapiou, A., Toumbas, K., Lampropoulos, A., Petrides, K., Pierdicca, R., Paolanti, M., Di Stefano, F., Felicetti, A., Malinverni, E.S. and Zingaretti, P., 2023. Artificial Intelligence to Fight Illicit Trafficking of Cultural Property. The International Archives of the Photogrammetry, Remote Sensing and Spatial Information Sciences, 48, pp.3-10.
Abate, D., Faka, M., Keleshis, C., Constantinides, C., Leonidou, A. and Papageorgiou, A., 2023. Aerial Image-Based Documentation and Monitoring of Illegal Archaeological Excavations. Heritage (2571-9408), 6(5).
Riz, L., Caraffa, A., Bortolon, M., Mekhalfi, M.L., Boscaini, D., Moura, A., Antunes, J., Dias, A., Silva, H., Leonidou, A. and Constantinides, C., 2023. The MONET dataset: Multimodal drone thermal dataset recorded in rural scenarios. In Proceedings of the IEEE/CVF Conference on Computer Vision and Pattern Recognition (pp. 2545-2553).
Orengo, H.A., Conesa, F.C., Garcia-Molsosa, A., Lobo, A., Green, A.S., Madella, M. and Petrie, C.A., 2020. Automated detection of archaeological mounds using machine-learning classification of multisensor and multitemporal satellite data. Proceedings of the National Academy of Sciences, 117(31), pp.18240-18250.
Registration form for Lecture 2 – 2023/24