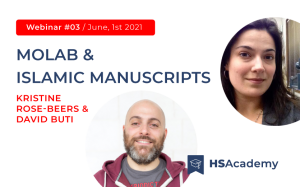 The webinar takes place online and will introduce participants to the MOLAB platform
The MOLAB (MObile LABoratory) is the IPERION HS platform that provides access for the Heritage Science (HS) community to key mobile laboratories and to the associated scientific expertise. It is composed of a set of mobile equipment and related competencies, for in-situ non-destructive measurements of artworks, collections, monuments, and sites made available for access through IPERION-HS. The value of MOLAB is twofold: first, the possibility of applying a multi-technique integrated approach that overcomes the intrinsic limitation of individual methods; second, the ability to analyse heritage objects without the need to move them. MOLAB started in 2004 with only two providers and now features 17 facilities across 10 countries offering access to 48 different instruments. The new MOLAB platform within IPERIONHS includes mobile laboratories with competencies in-ground and aerial remote sensing as a key to enable interdisciplinary research in new fields and application scenarios.
Kristine Rose-Beers, Head of Conservation at the Chester Beatty in Dublin (Ireland) will talk about "Manuscript materiality and MOLAB: investigating the Islamic book at the Chester Beatty". The presentation will offer a user's perspective on working with the IPERION HS MOLAB team at the Chester Beatty in Dublin. Two projects have used the portable and non-invasive analytical techniques provided by MOLAB to investigate the materials of Qur'an manuscripts and advance understanding of Islamic manuscript material. Both projects were driven by the conservation team, and have required multidisciplinary collaboration including conservators, historians, and scientists. The results from these projects have added considerable new information to our understanding of these manuscripts: in particular, Islamic manuscript materiality in the early 8th century and the palette of a mid-16th century Qur'an from Shiraz. David Buti, responsible for MOLAB Helpdesk at CNR (Italy), will present "MOLAB: Bringing science to heritage objects of research". His presentation will give an overview of the MOLAB history and the current offer of services; it will also focus on the lifecycle of MOLAB proposals and projects, from the user support to the physical access.
On June 1, 2021