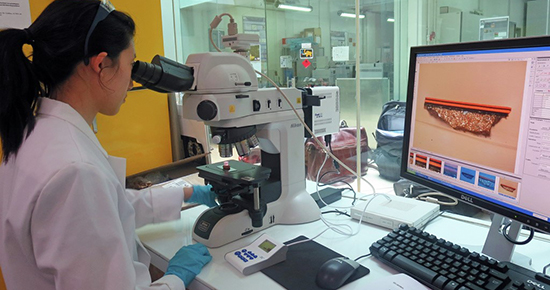 A three-year position to advance conservation practice in the visual arts
The Getty Conservation Institute is looking for an Assistant Scientist (three-year,  limited-term position)to provide analytical and research support to its Managing Collection Environments Initiative (MCE).
MCE combines research, education, and field activities to address technical and practical issues pertaining to the sustainable control and management of collection environments in museums, libraries, and archives, of all sizes and resource levels, and in all geographic regions.
Reporting to the Senior Scientist, Preventive Conservation, the Assistant Scientist will be an integral member of the interdisciplinary MCE team that conducts scientific research into the effects of environmental conditions on a range of cultural heritage materials.
The Assistant Scientist will analyze the mechanical properties of a range of hygroscopic materials under environmentally stressed conditions using a suite of micro-and macro-mechanical analytical techniques. The Assistant Scientist will also take measurements on works of art and historical materials using a wide range of mechanical and imaging techniques, conduct monitoring of environmental conditions in the field, as needed, and interpret the data produced.
Working closely with other members of the MCE team, the Assistant Scientist will contribute to the short- and medium-term planning of the project and support the development of research priorities by providing analytical and research support, and will also be expected to present findings at conferences and contribute to the range of publications that will come out of the research.
HERE you can find further information about qualifications, required skills, and how to apply.