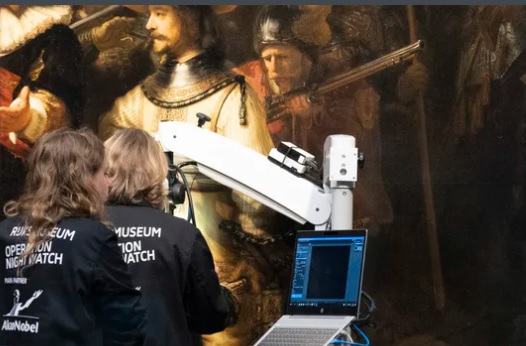 The Rijksmuseum presents scientific results on Rembrandt's Night Watch
Over the course of the last 2.5 years, Rembrandt's Night Watch has been investigated with the most advanced research methods, computational and visualisation technologies. This Operation Night Watch symposium will focus on technological innovations and scientific results.
The free of charge symposium, which will be held online on April 11-14, 2022,  will present innovative approaches, research challenges, new insights and breakthroughs in our understanding of the use of materials, the composition of the paint and build-up and the condition of the painting. The research has been performed from the macro to the nanoscale, in a non-invasive manner combined with micro-sampling. A wide range of scientific topics will be covered, including colour, chemical composition, degradation, texture, structural canvas analyses, cleaning studies, data fusion, visualisation tools and artificial intelligence.
During the symposium, the speakers will be present in the live chat to answer questions and discuss. The lectures will be prerecorded.
Further information, programme and registration HERE