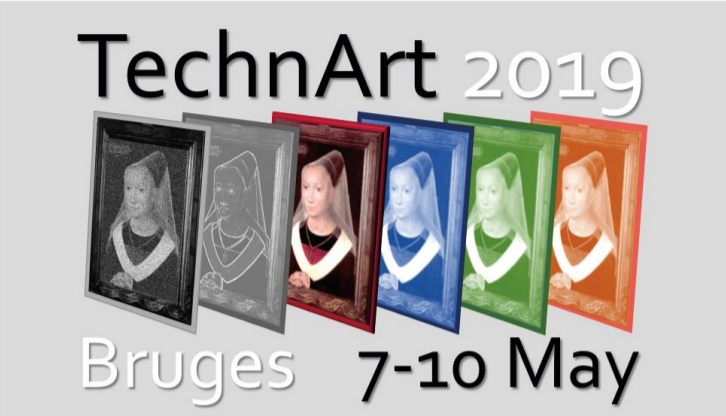 TECHNART 2019
(Bruges, 7-10 May 2019)
Organized by the University of Antwerp and the Municipal Museums of Bruges, the 2019 edition of TECHNART, the European conference on the use of Analytical methods for Characterization of Works of Art, will be held in Bruges on 7-10 may 2019.
The main aim of this congress is to provide a scientific forum to present and promote the use of analytical techniques in the field of cultural heritage. The conference builds on the momentum of the previous TECHNART editions of Lisbon (2007), Athens (2009), Berlin (2011), Amsterdam (2013), Catania (2015) and Bilbao (2017).
The meeting offers an outstanding opportunity for exchanging knowledge  and experience on leading edge developments in cultural heritage analysis. This includes studies on pigments, lithic materials, metals, glass, ceramics, resins and fibres and also chemometrics, forensic applications, art history, archaeology and conservation science.
Conference topics
X-ray analysis (XRF, PIXE, XRD, SEM-EDX)
Confocal X-ray microscopy (3D µ-XRF, 3D µ-PIXE)
Synchrotron, ion beam and neutron based techniques/instrumentation
FT-IR and Raman spectroscopy and microscopy
UV-Vis and NIR absorption/reflectance and fluorescence
Laser-based analytical methods (LIBS etc.)
Magnetic resonance techniques
Chromatography (GC, HPLC) and mass spectrometry
Optical and coherent imaging techniques
Mobile spectrometry and spectroscopy
Remote sensing and hyperspectral imaging
Case studies employing one or more analytical methods
Important dates
Abstract submission deadline: 28 January 2019
Notification to authors: 15 February 2019
Scientific Programme: 22 February 2019
Early registration: 1 March 2019
Registration deadline: 1 May 2019
Conference: Tue 7 – Fri 10 May 2019
Submitted contributions will be published in a Virtual Special Issue of Microchemical Journal.
See https://www.uantwerpen.be/en/conferences/technart-2019 for all detailed information.
More info