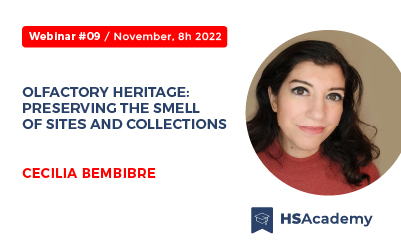 HS Academy Webinar 09/2022: Olfactory heritage: preserving the smell of sites and collections
The webinars are organized by the HS Academy, a collaborative initiative between IPERION HS (www.iperionhs.eu) and E-RIHS (www.e-rihs.eu). The two European projects integrate facilities of recognized excellence in Heritage Science, offering access to a wide range of high-level scientific instruments, methodologies, data, tools and training opportunities for advancing knowledge and innovation in the field.
Cecillia Bembibre will speak about Olfactory Heritage.
After decades of engaging with heritage primarily through our eyes, museums are discovering the value of a multisensory approach to collection curation and interpretation. Smells, for example, are linked to aspects of heritage like traditions and tourism; they stand as symbols of a shared past and enhance visitors' museum experience. Working with scents in heritage sites presents, however, a series of conservation and interpretation issues which research in the emerging field of olfactory heritage seeks to address. In this presentation, we will review methodological challenges for heritage smell preservation and presentation, and reveal some of the concerns of heritage professionals around challenges posed by the introduction of scents as new volatile organic compounds (VOC) in the gallery space, with notes towards developing best practices.
Date
November 8th, 2022 at 3 pm (Rome time zone)
You will learn

Different techniques to recover "extinct" scents from the past and to preserve those around today for the future
The way scientists can capture something as intangible as a historical scent
Duration
45 minutes (30 minutes + 15 minutes Q&A)
Speaker
Cecilia Bembibre  is a lecturer in Sustainable Heritage at the UCL Institute for Sustainable Heritage. She is also a researcher in the Horizon 2020 Odeuropa project, leading the tasks on olfactory heritage science. In her PhD, Cecilia developed a framework to identify and preserve historic odours, working with heritage organisations and industry.
Registration form for Webinar 09/2022