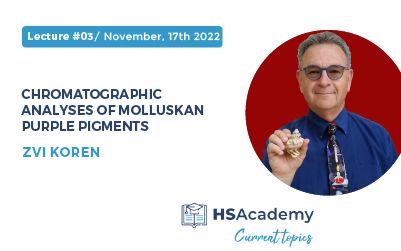 The 3rd HS Academy Lecture "Chromatographic analyses of molluskan purple pigments" will be held online on November 17th 2022, at 3 pm (Rome time).
Register here: www.iperionhs.eu/lecture-3-2022/ 
Prof. Zvi Koren will address the questions regarding the ancient purple pigment and dye, such as what is the malacological source of these archaeological pigments and dyeings, what was the ancient method by which these dyeings were performed, and more. He will provide case studies of HPLC chromatographic analyses of archaeological samples dating from three millennia ago. Register to attend the lecture and stay tuned for an exciting and colorful ride into the past!
Prof. Zvi Koren is Professor Emeritus from the Department of Chemical Engineering at the Shenkar College of Engineering, Design and Art in Israel. He has been the Director of The Edelstein Center for the Analysis of Ancient Artifacts at Shenkar since the Center's inception in 1991. Prior to that, Zvi was the Head of the Department of Chemistry at The Cooper Union in New York. He received his B.S. degree in chemistry and mathematics from Brooklyn College and his Ph.D. in physical chemistry from the City University of New York.