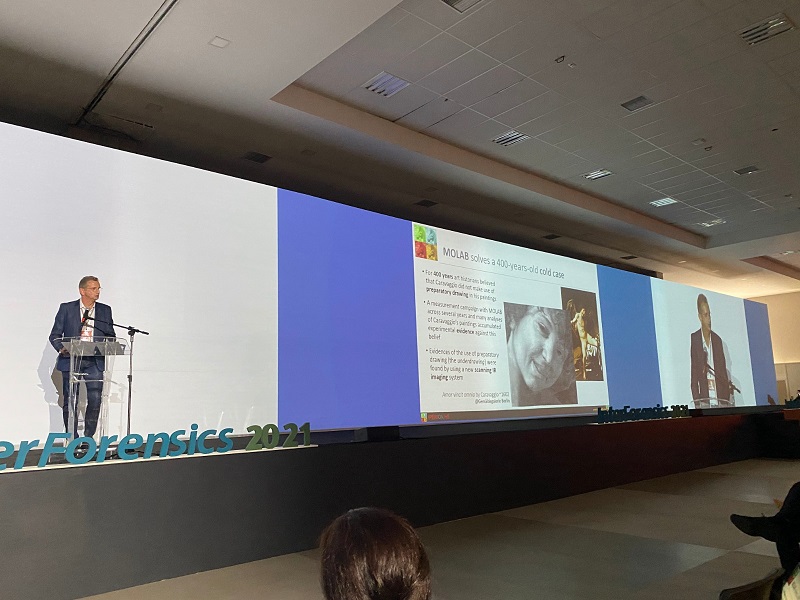 How to build a Global Research Infrastructure? How to connect the different communities working in the field of Cultural Heritage?
Crime against art has a long story. Around the world, specialized police departments exist to fight the illicit trafficking of artworks. In November 2021, Interforensics 2021, one of the most renowned world events of Forensic Sciences, invited E-RIHS to present its possible contribution to the problem. Luca Pezzati, the E-RIHS coordinator, presented case studies to highlight how the research infrastructure's services can play a fundamental role in authenticating, preserving, and interpreting heritage.
A picture of the object now known as "the 2nd situla of Hajdúböszörmény" (10th century BC) appeared on an internet forum. A person illegally excavated it then tried to sell it, but the object looked like a well-known one found in Hungary in 1858 (the 1st situla), not far from Debrecen city. After an international investigation, the police found the seller and seized the object. The Hungarian Institute Atomki, the partner in E-RIHS and IPERION HS, measured the elemental composition of the situla, confirming its authenticity and identifying the zone of production.
In this case, IPERION HS / E-RIHS services provided support in authenticating the art object. Luca Pezzati illustrated all the services available in the research infrastructure that are potentially useful to the Interforensics community.
Being in Brazil, Luca Pezzati was also invited to meet the Antecipa consortium to discuss possible future strategies to build a Global Research Infrastructure in Cultural Heritage, in collaboration with ResInfra EULAC that pursues the construction of bi-regional cooperation on RI between the European Union and the LAC countries. The main steps underlined were:
foster the development of international networks and their integration in new heritage science RI outside the EU
cooperate to the establishment of a Global Research Area of ​​heritage science, and foster a transdisciplinary culture of exchange and cooperation
pursue the integration of world-class facilities across many disciplines
carry out the alignment of diagnostic approaches and use of best practices
establish a shared infrastructure of open data and services.
There is still a long way to go, but international interaction shows that we are on the right track to the establishment of a global infrastructure involving different fields related to heritage.